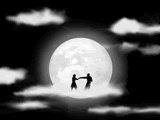 One of the greatest blessings in my life is my youngest son's ability to pull me out of myself. He has a way of getting people to come along with him and enjoy the current adventure in life. His technique is an irresistible combination of inspiring participation and coaxing the reluctant target. For me, he completed the education in silliness, which my husband began teaching from the night I met him. (It is my suspicion that you must be a child in order to successfully teach the higher levels of this desirable life skill.) When it came to fun, games and all things silly, as an oldest child and later as a parent, I tended to excel in the supervision of silliness, but certainly not in deigning to participate in it. I was in all such things a specator. A "silly" (please pardon the pun) way to be, but true nonetheless!
I know it was divinely ordained, beyond any shadow of doubt, that I was assigned family members who would train me in the art of participating in silliness, and not just being a benchwarmer. Did I mention I am eternally grateful for this very important life lesson?
One of the many techniques my youngest son used to instruct me, was to spontaneously
dance in the kitchen.
The twirls, swings and everything. It's like this: smiles, "Come on" step, step, twirl and swing, step, step, laugh and misstep for Mom, step, step, twirl, more laughter...you get the
picture
. With every step, and every laugh, and every twirl and swing, it is as if life, light and humility fill you, and in return you empty of worry and prideful reservations. It is a
splendid
trade-off.
Those moments are eternally engraved in my mind, and have left grooves (I know! Again with the puns!) of laughter, joy, wonder and great expectations for his future. It is possible that you would have to know how
truly awful
at dancing I am, to really appreciate the contrast here. Use your imagination, words fail me, (though not often) here. He has certainly completed his assignment of educating me in the higher levels of silliness, just ask anyone here. I can be silly with the best of them now!
Recently he and a buddy were acting up as they made lunch in the kitchen. They spontaneously started to dance in this parallel, line dance style. Just sort of showing of their coolness and masculinity in that way only young people (and your spouse) can get away with. It was such a sight to see! So young and full of life and laughter, that it makes you happy just to see them. Seeing these two young men who are ready to take on the world and find their own respective beauties to conquer life with, I was reminded his time under our direct supervision is short.
Before you can blink three times, his Dad and I will be watching each of them dance at their own weddings, and then one day in the kitchens with their daughters.
Notice that most of this is written in the past tense as pertains to my youngest having taught me through dancing in the kitchen. That is because my youngest
is
14 you know. It is not too often that a dance scene between he and I happens right now. That is Ok. It is part of the healthy transition of life. He is now looking for the love of his life to dance with. I find myself praying for him and for her, where ever she is. I hope she likes to dance in the kitchen,or is at least willing to be silly and learn!