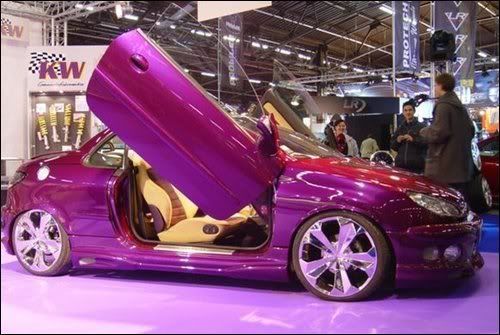 Here is my third go at Thursday Thirteen. I have really enjoyed doing these. It is great to see the zany, creative and thought provoking things my bloggy friends come up with. Lots of fun to make my own, too. I am NOT the stereo-typical Girl Power type person. However, I do relish the joys and mysteries of being a woman. And Never at ANY time in history have our feminine kind had so much opportunity, freedom and luxury available to us, than at this time in history. When I began getting into the Word of God, I was struck by how much was in there to set women free. Free from their past, free from being put in a pigeon hole, free from stereotypes. The trick I found was digging into the Word to chisel it out for others to see. It has been my unending privilege to do that every since I discovered this beautiful concept. So, in the vein, here is my list, for fun, games and a lot of gratitude at the times we live in!
When I ask you...at any other time in history could a girl get such a WAY cool car as above!?

I have two words for you here - hair color! I am 42 yrs old and I have had to have my hair colored since I was 24. My first gray hair actually popped up when I came home from the hospital after having my first child at the age of 18! Go figure! Yes, it was an omen of things to come! LOL!

ANY style goes now. How cool is that? Anything from urban hip-hop to traditional plain jane (guilty!) off the rack at Wal-mart or JC Penney's, to funky hippie-chick chic, its all good! Remember when the well dressed women had to be cinched into the whale bone corsets? Or how about when only certain ages and marital statuses should actually wear only certain kinds of colors, it's true!

Now you can actually have my favorite kind of child birth - an epidural! 3 cheers!

There is just no career or educational field unavailable to us any longer. From stay-at-home mom (my current career of choice) to being a doctor, or a business owner, an author or maid, politician, journalist, even a preacher. It's all honorable and socially acceptable!

Electrolysis. This was not always available, but, I am guessing it was always necessary! One day I WILL indulge in this wonderful invention!

Dishwashers and washers & dryers. Can you imagine? We would NEVER have time to talk to each other through blogging with out these great inventions!

Tivo - Listen , Ya'll, I am not ashamed that I like some wonderful shows, some a teaching shows (Joyce Meyers, etc) some are just plain 'ole fun, but without Tivo, I'd NEVER see anything! I don't even know how to watch TV without being able to fast forward past the commercials anymore, it's terrible!!

Make-up! NECESSARY! On so very many levels! And so many to choose from! Hip-hip-hooray!

No more arranged marriages! I can't even imagine! 'nuff said!

Cell phones and voice mail, how DID we ever live without that? Remember when you actually had to answer the phone and NOT know who was on the other end? Yikes!

I saved this for last! Just think, through blogging we have friends that we will likely never meet this side of heaven! People all over the country we live in and all over the globe! My latest discovery lives in one of the coolest countries - New Zealand! One of the things people struggled with as they pioneered in this country and others, was isolation. Now, we don't have to be isolated,

unless

we just NEED it for our sanity and peace of mind.

For that and these many other reasons, I am EVER SO GRATEFUL!



Hope you all had fun today! Love on your daughters, mothers, nieces, remind them how great it is to be free to be all they can be as a girl! Sow into their lives, it will make you both stronger and richer for doing it!