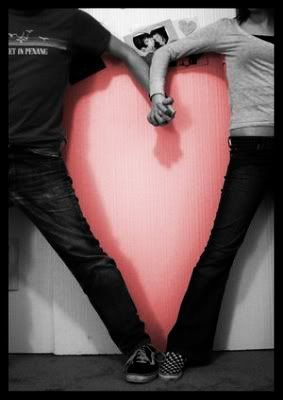 "And the LORD God said, [It is] not good that the man should be alone; I will make him an help meet for him....And Adam said, This [is] now bone of my bones, and flesh of my flesh: she shall be called Woman, because she was taken out of Man.Therefore shall a man leave his father and his mother, and shall cleave unto his wife: and they shall be one flesh". Genesis 2:18, 23-24 KJV.

Happy Memory Verse Monday
! I hope you all are enjoying sharing thoughts about how God impresses certain scriptures on our hearts. And hearing how those scriptures come alive in our hearts, it is my hope that we all learn from each other how to live in a wider place because of the freedom we have through God's Word. Find out more about Memory Verse Monday, sponsored by Karen at
Karen's Ramblings
.
I know I have been strengthened as I meditate, focus and abide in the words we have looked at so far. This 3rd week I thought I would share something that is a constant theme in my heart, and God took it to a new level for me last year in November. Which is that Jerry & I are a team. 1 can put a 1,000 to flight, 2 - 10,000. There is a special role I play in helping Jerry be all he can be. That doesn't make me less, it makes me fulfilled and joyful. When I stray from my primary assignment (outside of focusing on Christ), there is less joy, less fulfilment, less peace. When I look back at how I have opened my heart and spirit to the Lord to direct my prayers of my husband, I can see beautiful fruit that has resulted...who better to pray for him than me? Not even his Mom, much as she loves him, has the opportunity I do to be led of God to pray for him in meaningful and powerful way. Just like we can't outgive God, so everything I give and yield to my husband comes back to me a hundred fold.
I desire and pray that my sons will have wives that will watch their backs the same way, and that my sons will love, provide for and cherish their wives in way that blesses them both and allows them to live in what I call a large place. You can live in a tent, and be in a large place. Because you might be in the tent....but,
the tent doesn't have to be in you
. Inside you should be a faith and vision for something greater and more powerful, as you work together in Christ, to increase the boundaries of your lives. So that you have a rich heritage, spiritually, emotionally, physically for your children and grandchildren.
Some interesting facts about the Hebrew meaning (according to Strong's Concordance) about some of the key words in the scripture are these:
Alone (God said it wasn't good for man to be alone) means to be separate, divided, like a limb from a body. I never knew that until today.

Bone, bones (Adams said she is bone of my bones) this means strength, power, and something like the essence of. Think about what Adam was saying and remember this is him in his glorious state. God did not correct him, this was what marriage is meant to be. We are in fact, an integral part of the other half. There is a strength in us as we are united and it seems to complete and make us whole. Because remember alone - was to be divided, apart.

Flesh

- this means something astounding & to me humorous. It means fresh, rosy to proclaim or preach glad tidings or good news. Now why is this funny? Well, we joke around here about me being married to a caveman. This is NOT a term of disrespect. It is a reference to My honey's desire to be home with his family or do something fun together. He is a family oriented person. So we joke that he likes to be in the cave. He is also a man of few words, unless the mood strikes him otherswise. Years ago I couldn't escape the notion that in certain situations, I just knew he needed me to "represent" him so to speak in certain ways, in certain situations, relationships maybe he seemed to struggle with, and need a little assistance in. As I came to knowledge of Christ, it seemed much more clear...because we are Christ's ambassadors to the world. We represent Him, hopefully in a fragrant way! Since God thought enough of marriage to make it the sacred picture of the relationship between Christ and the Church. I guess I wasn't too far off.

Made - this word is not listed above, but I wanted to add it. It comes from when God made the woman from the rib. The meaning is to build or to obtain children. Does this mean everyone will have children? Apparently in this fallen world, no. But, in Christ there is another type of multiplication, Discipleship! Every generation increases, either to the good or the bad. It is part of the grand design, and we have free will to use that power to increase, to multiply for good or ill.
I have more thoughts on this and I will work on them this week, Good Lord willin' & the creek don't rise. I will post them at my Bible Study site. I hope this is a help to you, and I am happy to answer any questions, yes, even hard questions! feel free to e-mail me if you like.
P.S. Anyone who knows me personally can testify that we have a relationship that is quite equitable. I am very opinionated (gasp!) and independant. But, what has benefited me is to learn how to be interdependant, and even submitted (more gasps). I have lived both ways, I can tell stories of how much more strength and wide open space is in our lives through learning this. And he is just as supportive and watching my back as I am his, I assure you!
Be blessed!