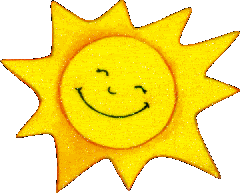 Sunshine! Warmth! That radiating heat that just feels scrumptious
on your face, and your entire body!
Growing up in a coastal town, and having a skin tone that tans easily,
I started sun bathing when I was like 9-10 years old.
Once motherhood came, moments to sun bathe have been F-E-W!
Because you always have to watch for the kids, make sure they're safe.
But we just built that back deck, and while I haven't been ready to lay out
and sun bathe (even that word, "bathe" bathe in the sunshine, in the golden warmth!)
just yet. I have enjoyed greatly going out and sitting in the sunshine.
Everytime I get that sun-beating-down-on-me-feel-good-warmth,
I just wonder "how on earth I was able to stay away as long as I have"?
Last week, I was struck with the idea that throughout history
pagan cultures have worshipped the Sun.
I can understand how they could be so decieved.
I don't mean that in a sacrilegious sense, and I know you inow that,
but just in case you are new here, that won't happen here! :)
But, the Sun (so I understand) is a picture of The Son,
and the moon which reflects the light of the sun, and has no light of its own,
is a picture of The Church, which reflects the light of The Son,
and has no light of its own.
Lately, I have been feeling that warmth and thinking
"Lord, I need You just like this sunlight, I need you to warm my heart.
This world is a cold place without you.
Help me tap into you more, so that I don't get hard,
so I don't get dry and shrivel up.
Warm me, Lord, bathe me in Your warmth.
How did I ever stay away this long?
Because I need you ALL the time,
wherever I go, whatever I do!"
"And it shall be in that day, says the Lord, that you will call Me Ishi [my Husband], and you shall no more call Me Baali [my Baal]."
Hosea 2:16