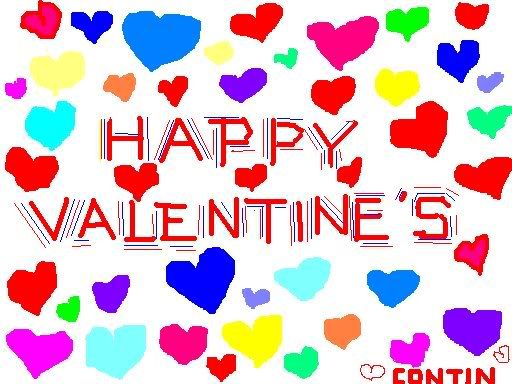 You know, I gotta go there. I have to!
Valentines is SOOO much more
than a way to sell Hallmark, roses and jewelry.
And if I see another commercial for a special Vermont Bear,
I just won't be responsible for my actions! PUUH-Leez!


2 years ago on Valtentine's Day,
I was feeling really mushy towards My Abba Father.
I remember telling Him in my morning prayer,
that for this day, what I wanted for Valentines,
was to be able to show Him
that I loved Him.
Would He help me to do that?
We have a young man,
who lives directly across the street.
He is probably 19 or so now.
He would have been around 17 then.
Anyway, since he was old enough to walk, this child
has been one to wander the neighborhood and creepy-crawl
into people 's yards, day or night.
His story is quite sad, and well documented by all the proper authorities.
So it's not like we looked the other way.
We tried to be friendly with him, several times.
But, he was so unwell,
it was deemed best for him and our son ,
if we were just were friendly from afar.
He has real anger issues, and that makes it difficult.
Going and getting a pellet gun to resolve a disagreement
with our son and his friend, about a casual game of street hockey,
proved to be the final straw there.
As said young man got older,
the creepy-crawling into yards, and breaking into places,
and stealing from yards and houses,
For about a year he took to standing by our mail box at night.
and smoking cigarettes and leaving them there,
just to let us know he'd been there.
Then over the Christmas Holidays,
he took some magazines out of our mail box,
and when he was done with them,
put them in the mail box with other mail.
No, we can't prove it, but, they had soooo obviously
been in someone's home for quite a while,
and they were at least 2 weeks late.
But, I figured it was relatively harmless.
And as scary as he was getting to be,
I still had a thimblefull of compassion for him.
So, now it's Valentine's,
I walk out to the mail box, the day is pretty,
my heart mushy, the birds are singing.
Imagine my chagrin, when 2 pieces of important mail,
1 to an attorney,
that I had put in the mail box the day before are in there.
Now, mind you I had put the flag up, and then,
that afternoon picked up the mail from the mail box
that was dropped off that afternoon,
(and my mail to be picked up was gone like it should be).
NOW it is the next day (Valentine's Day).
And the mail is back in the mail box
WITH THE FLAG UP!
It's like Ground Hog Day, the movie that is!
The mail that had previously, apparently been picked up,
had apparently NOT been picked up by the mailman,
but our wonderful mail-tampering neighbor!
OOOOOOOOHHHH!!!
Flames! Coming out of my head!
That was it, I wanted it fingerprinted! He was going down.
Or was he?
As I walked back to the house, I felt God calling in His marker.
Abba Father:
Show him mercy. Do me this favor.
Show me love, by showing my love.
Me:
Awww...what if he does it again?
Oh, OK.
Heaven knows You have shown ME enough mercy, Father!
I discussed it with my husband and
(that is always how God confirms things I am unsure about),
and Mr Law Enforcement himself verified,
that this seemed like the right thing to do.
So we continued to overlook.
And eventually he tired of this sport.
Thank goodness!
So, what's the point you ask?
Don't be conformed to this world!
(Gee I think someone really important said that before me!?)
Nothing wrong with celebrating with your loved one,
or your loved ones (family/friends).
But, turn your back on all that our culture says it has to be.
Don't wait on love to come to you!
Be the first! Be the first to show some love!
It doesn't have to be showy!
It can be as simple as an act of service,
or an act of mercy!
Give him a pedicure!
Make his favorite breakfast, even if you have to get up early to do it!
Call that old friend, you know that one who only calls you when they need something,
yes, that one!
Bring muffins and donuts to the office.
Make sure the snotty people get their favorites!
Yes, I said snotty!
Facts are facts, those are the ones who need the love most!
I leave with this thought:
"But I say unto you, Love your enemies,
bless them that curse you,
do good to them that hate you,
and pray for them which despitefully use you,
and persecute you;"