Normally, I would be at mid-week service at our church ,
at this time on a Thursday night.
But, my Honey's pager went off this afternoon.
He works for the local Police Department.
"ST. AUGUSTINE, FL -- A neighborhood in St. Augustine has been evacuated and part of U.S. 1 is closed due to a SWAT situation.A man has barricaded himself inside a home in the North City Gates area, just north of downtown St. Augustine.The incident began before 4 p.m. when authorities went to the home to serve a warrant on a violation of probation charge.Sheriff David Shoar says the suspect threatened officers, closed the door to his home and armed himself with a handgun.Shoar says the suspect had a prior conviction of aggravated assault with a deadly weapon.Authorities don't believe anyone else is inside the home.Investigators have made contact with the suspect by phone"
So, I am praying for my husband,
and all the men and women working to get this guy out safely.
I am praying for the guy to.

In the mean time, I'd rather not keep thinking about it.
So I thought I would try to gather some random thoughts and happenings,
and pull up a chair and a keyboard and visit with you all!
My Honey has a hard time sleeping at night,
because he has worked midnight shift for so long.
It doesn't help that sleeping with me lately,
is like sleeping with a human heater.
But, we have made a pact NOT to mention the "
M
" word,
that is rumored to strike women about my age.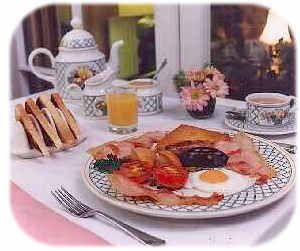 We are also working together to change our eating habits.
It's so much easier to do while working together.
Towards that goal, several mornings this week,
he has used that early morning time,
to make me breakfast in bed.
He is such a keeper!
On another note, this past weekend I was sweeping the floors,
and mentally calculating (read worrying)
on various issues and challenges.
As I listened to myself, I made a determination to STOP.
Instead I decided to give thanks to God.
right then and right there,
outloud in my Laundry Room.
"Lord, thank You that life is sooo much more than paychecks,
paydays, raises, mortages, new tires.
It is so much more than vet bills, really cute blouses and shoes at Bealls.
I am so glad that You love me, and my husband, our sons.
Thank You Lord that Your hand of blessing is with us always,
leading and guiding, teaching and protecting.
Thank You Lord, that you made life about You,
about Love, Faith, Hope, Sweetness, Strength, Courage, Redemption.
Forgive me, Lord for making life about anything t
hat is just going to melt away one day.
One sweet day, when all things will be made new.
Teach me, Lord to be more focused on You, and what's eternal.
I Love YOU, Lord, and I really didn't need those shoes anyway!
I have got so much more important treasures around me."
"Do not gather and heap up and store up for yourselves treasures on earth,
where moth and rust and worm consume and destroy,
and where thieves break through and steal.
But gather and heap up and store for yourselves treasures in heaven,
where neither moth nor rust nor worm consume and destroy,
and where thieves do not break through and steal;"
Love you guys!