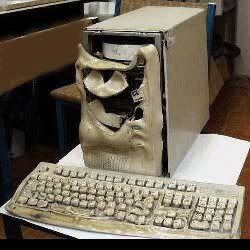 Well, I had so much fun doing the Christmas Trees post!
I posted and ran out the door! Time to take the youngun' to Music Practice...
came home to check e-mails and something was not right with the PC.
We spent the evening and the next day trying to get it straight
and finally we just had to have the funeral, get all the music and writing off and do a re-install. My Honey
worked late into Wednesday night doing
that, (
he's a smart & sweet cookie
!
)
and my son was so helpful the night before in figuring out how to hook the internet up to an old laptop so I could answer some comments and e-mails.
So, all that was to say I am back in the saddle again! And If I use to have your e-mail, I don't now...so please be sure and e-mail me so I can add you to my contacts again!