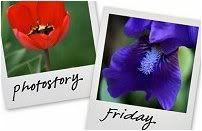 Hosted by Cecily and

MamaGeek
***OOOPS!!!*** I forgot the rule that I was to take the picture! Hubby took this one! I will make sure I take the next one! Sorry!****
My Blissfully Chaotic friend Cecily is co-hosting along with MamaGeek a fun little ditty for Fridays. Check them out for rules and signing up if you are interested!
This week my contribution is the sweet horse who lives across the street. The entire neighborhood loves him. And the neighborhood has more than its share of horses. We are very rural you know! :) Yee-haw!
Anyway, there is an older couple who live near our neighborhood and bring their dogs most every evening for a walk through our neighborhood. The gentleman brings carrots in his pockets every evening for this horse! He said the horse is getting expensive! But he just can't resist. Recently, as I walked up to the front of our yard to say hello to him as he fed the horse, he didn't know that I was approaching, but he was looking all around. Turns out he was trying to ascertain what on earth the horse was looking at, because he couldn't get the horse's attention. The horse was looking at me! Anytime I am out in the yard, the beautiful horse will leave what he is doing and come rushing to the front corner and he just watches. His personality is so strong, he looks at you with that side view horses give, and its like he is more aware than you would think a horse would be. I mean, I would not be at all surprised if he spoke, truly!
So, besides the fascination we all have for this beautiful guy, this form of transportation is what my husband laughingly keeps threatening we are going to! Gas ain't cheap you know! Of course, we are in much better shape than what other nations are paying per gallon, so if the price goes up, we'll just "Giddee-up!"