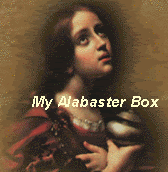 The
famous
alabaster box.
It meant so much to Jesus He said
"Truly I tell you, wherever this good news (the Gospel) is preached in the whole world, what this woman has done will be told also, in memory of her."
Matthew 26:13 I am thinking about the alabaster box in a little different way lately. I thought I would run my ponderings past you. Maybe you will want to come along on the journey with me!
It started occurring to me right in the middle of service Sunday, "What if
everyday
I looked for an opportunity to give, to yield or surrender what I am holding onto,
what I am keeping to myself or for myself
, what if I let the Holy Spirit show me
my daily opportunities to surrender my alabaster box,
to give it to Him
! "
Now, that wasn't what the service was about. At. All. But, that is just something that I was inspired to during the service.

I started by reading the accounts in Matthew 26, and Mark 14 yesterday, and just praying that "Lord, I have no idea if I can do this or how to do it. But, I desire to try if You will teach me, give me insight and give me strength. I am a little scared that You will show me something that I am scared to give up, or let go of, or surrender. So, help me. I trust You. I want to give You this day my alabaster box."
Already my journey is telling me that it's at least
partially
a journey of faith
(of course),
of humilty
(so necessary),
and of
obedience
(the biggie I'm thinking!).
Yesterday I had an opportunity to let go of something I always hold onto, keeping it tucked way inside. There was a chance if I would let go of it, it would help someone else,
at least a little
. But, I could have said no. I am glad I didn't though. I feel closer to the other person, in a way that
only God
can arrange. And it was really liberating to me,
to be able to let go of it
. I think for me, that was my alabaster box yesterday.


Why obedience?
"Samuel said, Has the Lord as great a delight in burnt offerings and sacrifices as in obeying the voice of the Lord? Behold, to obey is better than sacrifice, and to hearken than the fat of rams. For rebellion is as the sin of witchcraft, and stubbornness is as idolatry and teraphim

(household good luck images).

Because you have rejected the word of the Lord, He also has rejected you from being king."

1 Samuel 15:22-23

And lastly, but not leastly!

;) "For You delight not in sacrifice, or else would I give it; You find no pleasure in burnt offering. My sacrifice [the sacrifice acceptable]

to God is a broken spirit; a broken and a contrite heart

[broken down with sorrow for sin and humbly and thoroughly penitent], such, O God, You will not despise."

Psalm 51:16-17
Today is a new day though.
So I am
seeking
, and
listening
for my opportunity to give, to yield, to let go of, and to OBEY! I am
so, so sure
He will give me an opportunity, and I just hope that I say YES!
I believe this will be a recurring post. As I am feeling led as I write this, to keep this theme going on, holding it up front for us to all consider.
Join me if you like!
I would love to hear
your
thoughts on the
Alabaster Box
!