Prayer is a HUGE part of who I am
.
I continuously
seek
to grow in this area.
When I started blogging last September,
I had certain thoughts that perhaps I may start another blog on prayer.
But I decided
it would grow into something I couldn't handle
.
Instead,
who and what I pray for just grew
,
as my circle of friends began to grow outside of my beautiful, small town.
And I am so grateful that is the case
.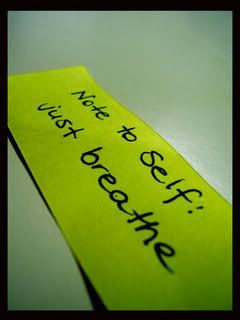 (Prayer is like this - BREATHING)
From time to time
, I consider doing a post about prayer.
I always hesitate
, because it is just
simply a very daunting task
for this housewife to quantify what she
knows in her heart
, and has lived to see the gracious and sovereign hand of God work in people's lives, through answered prayer.
Prayer isn't just a religious exercise.
It really IS communing with the Father. It's a privilege. It's an obligation.
And it is such a comfort
and
a blessing to have back a little of what Adam and Eve had in the Garden. To have that "face time" with The One Who Reigns!
I clearly am
still not
up to quantifying it. But, the past few months have been very challenging in a number of ways. It has been at times difficult to keep a proper perspective. And in the midst of it all,
God has gone out of His way to make sure I remember He is near, He is GOOD

and He is for me, my family our best
.
I love when He does the little things to connect with me, to assure me of His love.
Who am I
that He would pay
such careful attention
to me? But,
He does it for you too!
Are you listening to Him? Are you looking for His voice? For the signs of His affection for you?
The most recent thing He has done,
is to answer prayers
(for shamefully self-centered needs, things that just made life easier, more convenient and made me ridiculously happy)
BEFORE I could finish the prayer
.
That's some serious answer to prayer, Ya'll
! And I don't take it for granted. I look at my life and I see so much I want to be better at, and more consistent in, and for real resurrection power transformation to be manifest in my life in more areas. There are things also, that I have prayed for, for YEARS, (like 15)! He hears and He answers
all our prayers
. We must not give up on Him. He doesn't give up on us!

Don't get so caught up in the long term prayer requests
,
that you forget to enjoy, celebrate, testify and

THANK HIM for the little things

.
The little things that keep us going step at a time. Day at a time.
Here are just a few of His Words to us on the topic:
"I will cry to God Most High, Who performs on my behalf and rewards me
[Who brings to pass His purposes for me and surely completes them]!"
"In my distress [when seemingly closed in]
I called upon the Lord and cried to my God;
He heard my voice out of His temple (heavenly dwelling place),
and my cry came before Him, into His [very] ears."