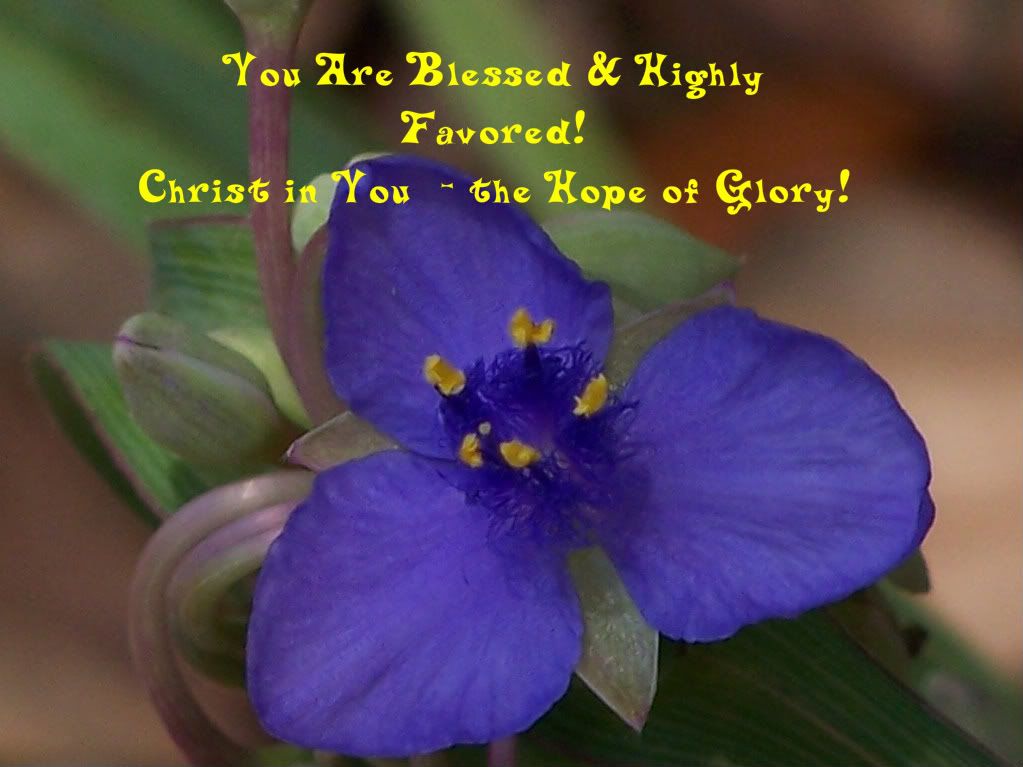 The object is to summarize your life's message or memoir, in six words, and chose a photo if you want to accompany it.

For my six words
, I felt this would be the best fit. Believe it or not, they are new to me.
And they are not meant only for me, but for all of you as well!
Monday morning, as I was admiring the blue skies and green pine trees from my back deck, I was thinking about God and these words popped in my mind
"You are blessed and highly favored!"
These words being a paraphrase of the angel's words to Mary, in
Luke 1:28.
Like so:
"And having come in, the angel said to her, "Rejoice, highly favored one, the Lord is with you; blessed are you among women!"
Immediately the thought was that for Mary this was a first. She would carry the Christ child. But, because of what she did. Because
even further
, of what Christ accomplished,
HE now makes His home in us!
How great a privlege and strength this is we don't yet fully grasp!
Christ in me the hope of glory!
Christ in YOU - the hope of glory!
I knew as soon as this thought exploded within me, that it was not for me alone, but for me to share with all of you. I have been letting it "steep" in me through out this week. I hope you will seek God for yourselves and see the power of the glory of what God intends for you!
Here are the rules for the meme. I will obey and tag 5 others (who I don't think have been tagged already) but,

feel no pressure to participate, merely an invitation to play if you feel like!

Life doesn't always lend itself to allow us such time!
The Rules:
1. Write your own Six-Word Memoir.
2. Post it on your blog and include a visual illustration if you want.
3. Link to the person that tagged you in your post and to the original post if possible so we can track it as it travels across the blogosphere.
4. Tag at least five more blogs with links.
5. Leave a comment on the tagged blogs with an invitation to play.
Have a blessed & highly favored weekend! Christ in YOU the hope of glory!