I get several little
e-mail news bulletins.
This was just too good!
A pair of brothers are so devoted to Star Wars,
they have started their own religion, called "Anglesey Order of Jedi".
Inspiration apparently struck after the release of the UK's census data in 2001.
390,000 listed their religion as Jedi
.
Yes, tis true!

Things are apparently flourishing for the new religion,
as they are in the process of extending their reach from the UK,
to the Philippines and Florida.
It would seem that the Order of the Jedi is a risky one.
Recently, while filming a documentary with his cousin, Barney Jone (co-founder), who also goes by the title "Jedi Master Jonba Hehol" was attacked
by a crutch wielding man
dressed as Darth Vadar.
(Where was his trusty light sabar?)
Some of Vadar's victims included Barney, a hairdresser and the media crew on the scene.

The Force must have been strong
with Jones and company,
as the cameraman filmed it,
and now the North Wales Police are searching for Vadar
.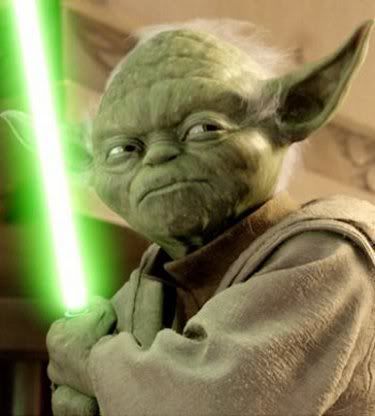 **** I don't think anyone was hurt too much. I didn't see any such reference in the many entries on the web that I looked at...you may feel free to laugh!****