Thursday night mid-week service was so good.
It's got me thinking,
and I needed it on many levels.
Two things which I will share are these:
1) He mentioned that sometimes people say they
"just want everything to stay just like it is, don't change",
as pertains to say; a church family, a person, a business environment.
Unfortunately, if taken literally, it's a death sentence. In this fallen earth,
things must continually grow,

or they decay.
This pertains to people in every sense, not just physical, but in relationships, intellect, organizations
(business, educational, churches, etc).
When he spoke about this,
I knew
God was talking to me, He
has been
recently about changes, being willing to let go, and moving on.
I'm just having a hard time knowing how, what and when.
You know, basically
EVERYTHING
! ;) I just keep telling Him, "I'm willing,
show
me,
teach
me,
make it clear to me
.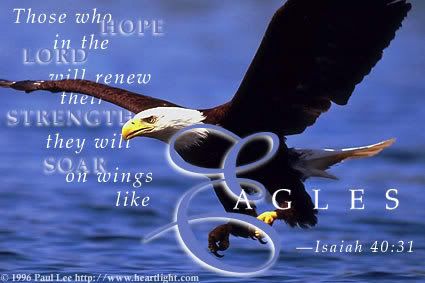 I came home that night,
and in case I had ANY doubt about my need to shed some things in order to continue on into the next stages of life,
my poor dial-up system was having the dickens of a time getting this one e-mail.
Well, it was so completely worth the wait
. It was a
beautiful
PowerPoint slide show about eagles.
Eagles are a favorite of mine
.
Immediately
it had my attention. It was about
how eagles successfully make it past their 40s
(HELLO!).
My hubby watched it with me, and
we really
enjoyed it. I will be thinking about
that
for a
while
! I
know
it went hand in hand with whatever changes God is drawing me, drawing
us
to.
2)The second thing that I wanted to share, I just hope I can properly convey. Some background first - Our church family considers itself to be
similar
to
David's Mighty Men
. We
even
have a song we wrote by that name. The deal with David's Mighty Men is the fact that they are messed up people with problems,
yet
,
in spite
of that, there is something valiant in them and they are drawn to righteousness. Doesn't that cry out to everyone? We have
all sinned and fallen short of the glory of God
, yet, we are drawn to Him, and He puts the hunger for righteousness inside of us. Because of this theme in our fellowship our Pastor occasionally will read over the scriptures about David's Mighty Men, in his personal studies. Recently he saw one of the men listed
in a new light.

"
These are the names of the mighty men whom David had
...And Benaiah son of Jehoiada, a valiant man of Kabzeel, who had done many notable acts, slew two lionlike men of Moab.

He went down also and slew a lion in a pit on a snowy day."
2 Samuel 23:8, 20


He actually talked about this for a little while, before I actually could comprehend
the point that lions usually chase their prey
,
prey doesn't chase them
!
Benaiah went to the lion, he went into a pit, on a snowy day and killed a lion!


God saves us, and then lets us continue on in our life here
. To learn, to grow, and to finish our
"to-do list"
.
He puts greatness in our hearts.
Our
great thing
can be founding a family business, raising a family of responsible citizens who love Christ, discovering a cure for cancer or how to harness cold fusion energy. It might be to be a great Broadway producer, who writes and produces witty, thought provoking plays, which change the way people think in a GOOD way. It might be to be the spouse of a Pastor, and love and support that person as they together serve the Lord in ministering to many, many people, over many years.
The question we need to ask ourselves is
-
what is my pit to go into??
What is your pit?
Where is your lion and my lion to tame?


Benaiah went where he didn't have to go, and did what he didn't have to do. I believe he was drawn, compelled. As I thought about this, I asked "Lord, why would anyone do that? Why go into that pit, on a snowy day, and kill a lion that is not bothering you?" The only thing I came up with is to rescue someone, or save the people nearby who were in danger. Think about it. Valiant man. Travels a lot. Comes across a village, the people feed him, they tell him of a lion which troubles them. He decides take out the lion before he moves on. Because he IS That kind of Man!


As a touch of irony or I dunno, added frustration? At the whole 40something mish-mash of change, growth, transition, we are big golf fans. My husband doesn't get to play much these days. But, in the future I believe he will able able to play regularly. Its important that he be able to do that. For those of you who follow golf this weekend is the Master's. It's like the Superbowl of golf. Freddie Couples is someone we have watched as long as we have been married. We just think he is such a neat guy and a fun golfer to watch. This would have been his 24th Masters and he would have broken the record he is currently tied with Gary Player with for 23 consecutive Masters (without missing a cut). We watched him come within about 1 inch (literally) of making the cut. He didn't make it. Prior to playing he was interviewd, and he was very gracious and comfortable and said that if he didn't make it, well afterall he is "48 and he should miss some cuts!" I just have to say, Ya'll, I was

BESIDE

myself when he didn't make it

. It is possible I was more upset than he was. Likely, as a matter of fact.


What does all this mean? I'm not gonna try to dress it up. I really don't know! Ha! I'm just trying to figure it out! I guess, transition, the changing of the guard, and making sure we take out whatever lion is troubling the people near us, is VERY important! Being flexible in the Hand of God, yielded,willing, gracious and valiant is very important.
Thanks for hanging out with me while I babble!
Hope you have a fabulous Sunday

! Start praying now for a life changing encounter with God TOMORROW!