"Love bears up under anything and everything that comes, is EVER ready to believe the BEST of EVERY person, its hopes are FADELESS under ALL circumstances, and it endures EVERYTHING [withOUT weakening]."
1 Corinthians 13:7
I know, BIG type! But, I felt it was necessary in this case. Picture me jumping up and down as I emphasize this, (for my own benefit if nothing else)! Because if there was ever a verse that needed to be like...I dunno...tattooed on my arms, so that I could refer to it at a moments notice in TESTING...like a spiritual cheat sheet; this would be THAT verse!
Remember the happy after-glow of a thankful heart, which prompted me to post last on prayer?! Wasn't that lovely?! Yeah, I was enjoying that, too! It continued on into Friday. My Honey and I had made plans to replace our water tank and water pump. We had had the same ones for 20 years this past January, and they were on their last legs. He does such good work, and I love handing him tools and pieces of stuff. I kept the radio playing songs we like, and we just were having a great time.
I was feeling so mushy about the kids we were when we first bought the original tank and pump, and how far God has brought us two, pretty much clueless young people, to now middle age, and at least we now are aware that we are clueless! Having tried it both ways, I think it's a lot better to know that, than to think you have ALL the answers!
Then came Friday night. My Honey went fishing with his brother (who lives next door, I know so cliched and Southern, but true!) They are two, hard working, family men, who don't get to do this very often, because of conflicting schedules. We checked the weather and there was no rain scheduled until Saturday afternoon. All was well until up comes a rain storm (love that!) and they headed back to the boat ramp. As the boat aproached the dock and ramp, he jumped from boat to concrete dock with barnacle covered side, at the same time as the boat skittered backwards a little. He landed in a very undignified manner which I won't go into detail about, even though he is a REALLY good sport. But, he did bust up his nose, scraped up one shin in the barnacles and broke his arm. The pain was so bad, that by the time they got the boat home, and he was getting ready to walk from his brothers, to our place, he PASSED OUT while standing talking to his brother.
All this I took with grace. So far so good. If you are reading this thinking, "Well, that's very nice that you could be gracious about HIS pain", don't worry, it gets worse BEFORE it gets better! There was some initial question, as to IF his arm was broken, so once I had doctored him a little and checked his eyes to see if they would constrict in the light, we figured it was a good idea to go to bed, and see what the morning brought. We had a full day planned for Saturday, but we knew it may have to change, if he needed to go to an urgent care clinic. It was a long night. Bless his heart, he is truly my man of steel. But, even Superman has Kryptonite. You know what I mean, your honeys seem just as invincible to you. That's how it is supposed to be. So, we got up and were at the clinic first thing. It turned into something like Homer's Odyssey. We arrived at 8:00 a.m. opening, and left a little after 12:00 noon. They had diagnosed it as broken and taken a set of x-rays. By the time we left there were 2 nurses who I thought very little of. One in particular left a sour impression on me just before we left. We now headed out for our referral to an urgent care after hours Orthopedic clinic, which we didn't even know existed (or we would have went there first).
So my Superman has a cast and will be out of work for ever how long it takes. Fortunately we have great insurance on him and he has lots of stored up sick leave, because he has a terrific work ethic and is very healthy, thank the Good Lord!
There were and are so many things to be thankful for in this. But, the reality of him having a broken bone and missing work. (You may skip the next couple of lines and just read them as WHINE!) No Overtime (which is something we count on), just 2 snotty nurses, (many nice people) and the remnants of my flu, and not getting home from everything until 2:30 p.m.. All that was to be done when we got home. 2 children with cell phones we could not communicate with. And lots of other things which just don't matter made me like this: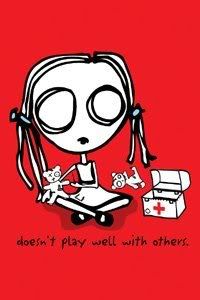 Yes, I was not a pretty picture by yesterday evening! Especially on the inside! Of course it was pretty obvious to anyone within 30 feet of me as well! As I mulled on the loss of my "happy place" in the Lord, and life in general, I was so stricken at the lack of love inside me, and that I could be that unloving. When we have SO much to be grateful for! There was a day he didn't have insurance for one. He probably won't need surgery for two. He has more than enough leave time on the books. He won't miss a pay check. I could go on, but you know, because I don't think I'm alone in this. We all have much to be grateful for. And yet...
"... the little foxes that spoil the vineyards [of our love], for our vineyards are in blossom. "
Song of Solomon 2:15
And yet...we all can let the little things spoil that place inside of us that lets love live. The place the lets love operate within us in a way that makes us able to overlook other people's smallness. To give a soft answer in the face of wrath, to turn the other cheek. The place that allows us to just plain focus on what is important, what is essential, and NOT what seems urgent. Love let's us have what I call "God's priorities". To have His priorities is something I started praying for just a very few years ago. From time to time, when the way seems murky, or I feel overwhlemed I know it is time to pursue that path of prayer again. His priorities help me let go of the little things.
Wish I had started that early yesterday morning. Oops!
I am properly repentant and back on track, but what a yukky taste in mouth yesterday left! I had an opportunity to really show Jesus to my husband. Instead he got to see Little Miss Ugly! You know, that glassy-eyed scary, little girl in the picture above! Ok, maybe not quite that bad...MAYBE! :)
It stormed Friday Night. It stormed last night (in my ugly mood), and this morning as we went off to church the sun was shining, and I was reminded again of the fact that the rain comes, but it IS a blessing every time. And I was reminded last night during my distress at my ugliness, of the Promise of His Love. When the sun shines after the rain, we see rainbows sometimes, as a reminder of His faithfulness, even when we are not.
Hug your Honey, your kids, your grandkids, your nieces, your nephews or your Bippy if you like. But have a great night, Ya'll!
love,
maria (no longer Miss Ugly)