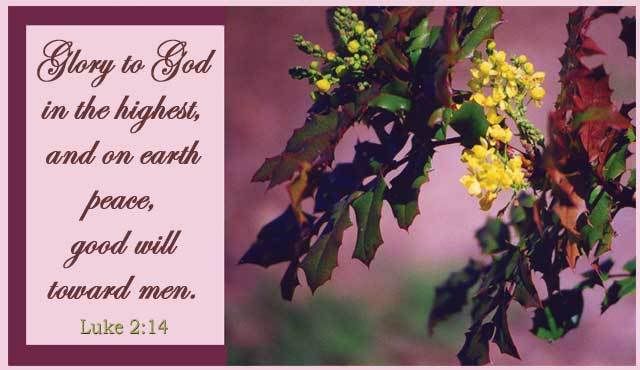 A cheery "Top of The Morning!" to you all!
I have been focusing on taking care of my patient (he is being a very good patient, btw, thank you all for your well wishes and prayers!).
This morning when I pulled up my blog page, (I always go to see what today's verse of the Bible is, powered by Bible Gateway) and here's what my "prize" for today was:
"Who being the brightness of his glory, and the express image of his person, and upholding all things by the word of his power, when he had by himself purged our sins, sat down on the right hand of the Majesty on high:" Hebrews 1:3
Sometimes the scripture you read just makes you all sparkly inside...this is one of those scriptures for me...this one NEVER fails to make me feel all sparkly inside!
The power, the majesty of WHO and WHAT He IS is just too glorious to behold or comprehend for us...but this is one of the verses that helps illustrate it to me.
As I read the verse on my sidebar today, this is what my spirit answered with, or my "first impression" if you will, "Glory to God in the highest, and on earth peace, good will toward men. "
Think of it. He is holding everything together by the power of His Word! And after making our sins, our sins which are great, AS NOTHING! After making them as nothing, He took His seat at the right hand of Majesty on High!
Today the scripture from Hebrews led me to consider what our first impression of our Savior was. The Father in Heaven sent word to some working class people, who would appreciate the news, people who He could REACH with His good news! And this was the first impression He wanted for the news of the Christ Child to make:
"Glory to God in the highest, and on earth peace, good will toward men."
Luke 2:14
Let those words live large inside of you today. In the midst of crisis, tragedy, and sometimes chaos, He came to give us peace, to give us hope, a SURE hope, an answer to everything that says, "Yes, bad things will sometimes happen, and sometimes good things, even GREAT things will happen. But all these things are surely temporary, merely dress rehearsal for an enternal Hope, an eternal future. That, my child, gives you PEACE, and a confident belief in my good will to you!"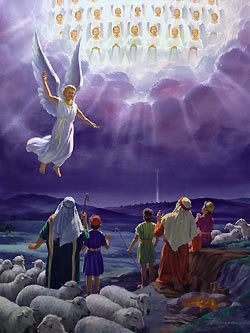 That just blows me away today
!
The fact that Our MIGHTY Father God in Heaven, wishes us, purposes towards us
(He is NOT to be thwarted,Ya'll!)

PEACE - and GOOD WILL

!
How can we fail to come out good in this life? Not only in this life, but in the one to come!
Father, let my life be a thanks offering. Help me to serve you today, show your kindness, your excellence, your beauty as I serve those in my life. Help me to live a life that testifies of your peace and good will toward us!