Pressure, pressure, pressure.
Relationship issues (children, spouse, parents, siblings, co-workers, neighbors, business associates, fellow church members), sickness, financial issues, unforgivenss (sometimes even of ourselves), even unresolved sin, - these things and more b
ring
PRESSURE!
During Easter season
,
I was really keeping an eye out
for the Lord to teach me something. I was not disappointed.
Remember these bombshells Jesus gave to His disciples to ponder? These are scriptures from John 14 and John 16 where Jesus tried to communicate to the disciples what a treasure He would be sending them, (and thereby us), when He once got back to the Father. It was too much at the time for them to comprehend. It made more sense in retrospect:
"16And I will pray the Father, and he shall give you another Comforter, that he may abide with you for ever;...18I will not leave you comfortless: I will come to you....23Jesus answered and said unto him, If a man love me, he will keep my words: and my Father will love him, and we will come unto him, and make our abode with him...
7Nevertheless I tell you the truth; It is expedient for you that I go away: for if I go not away, the Comforter will not come unto you; but if I depart, I will send him unto you...
13Howbeit
when he, the Spirit of truth, is come, he will guide you into all truth: for he shall not speak of himself; but whatsoever he shall hear, that shall he speak: and he will shew you things to come.
14He shall glorify me: for he shall receive of mine, and shall shew it unto you."
So, The Holy Spirit living within us, comforting us, teaching us the truth of God, once we believe on Jesus for our salvation, is the wonderful, wonderful gift Jesus promised us!
My MOST favorite scripture from Jesus about the Holy Spirit is this one -
"...

Jesus stood, and He cried in a loud voice,
If any man is thirsty, let him come to Me and drink!


He who believes in Me

[who cleaves to and trusts in and relies on Me]
as the Scripture has said,
From his innermost being shall flow

[continuously]
springs and rivers of living water.
...

He was speaking here of the Spirit,
Whom those who believed

(trusted, had faith)

in Him were afterward to receive.
For the [Holy] Spirit had not yet been given,
because Jesus was not yet glorified (raised to honor)."
My point is,
if you are feeling the pressure of life - be encouraged

.
That pressure is necessary to make your well flow
!
You know how the scriptures tell us in
James 1 to
"Consider it wholly joyful, my brethren, whenever you are enveloped in or encounter trials...Be assured and understand that the trial and proving of your faith bring out endurance and steadfastness and patience.
But let endurance and steadfastness and patience have full play and do a thorough work, so that you may be [people] perfectly and fully developed [with no defects], lacking in nothing."
I found the plaque above when we visited Washington Oaks State Park. And
immediately
I
KNEW
it was a treasure.
It seems that the secret to artesian wells is the pressure the water is under

.

That is what makes the water defy gravity and flow upward

.

Hallelujah!
The treasure within us, Christ within us, the hope of glory,
flows out of us more freely, when we are forced by the pressure to tap into the rivers of continuosly flowing living water, which Jesus said would flow from our "inmost being".
I'm saying,
some of the best stuff He has put inside of us, won't show up, unless we go through some pressure.
This gives me great hope
.
I DO desire the Holy Spirit to flow through me, causing love, mercy, faith, kindness and other "fruit of the Spirit" to show up in my life.
But being the fallen creature I am, if I do not experience some trials,
I will become self-righteous and self-sufficient and completely unfit for the Kingdom of God.
Though the pressures of life make me want to whine and cry (just every once in a while!), and sometimes even make me think about why I do what I do, and what do I really believe, in the long run here are some of the benefits of that pressure of trials mentioned in James 1:
My faith becomes stronger.
I more firmly know what I know

about the faithfullness of God.

I understand more about my weaknesses, which is a good thing to know, it humbles me and causes me to open up to God, and depend on Him to fill me.

And through the pressure

I become forced to tap into the power of God within me, to teach me, sustain me, comfort me.
Whereas without the pressure, I could just keep having pretend faith in my own power.

Our human nature assures us, that without pressure, we naturally regress to our own stength instead of tapping into the rivers of continuosly flowing living water - Christ in us, the Hope of Glory!
I researched a little about artesian wells to make sure I understood properly. Dig this: "Deep wells drilled into rock to intersect the water table and reaching far below it are often called artesian wells in ordinary conversation, but this is not necessarily a correct use of the term. Such deep wells may be just like ordinary, shallower wells; great depth alone does not automatically make them artesian wells. The word artesian, properly used, refers to situations where the water is confined under pressure below layers of relatively impermeable rock...as the picture...(below)shows, artesian pressure can be very strong!" This is from a Georgia educational site which you can find here.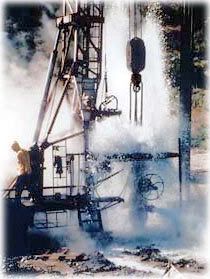 See how powerful the flow is which they are trying to cap, to control it? I can't explain how grateful I am that He speaks to us in parables through nature. He gives us illustrations of Biblical truths. Because a picture is worth a 1,000 words!
I want Him to flow through me; clear, free, clean and crytal!
Happy Saturday, Ya'll!