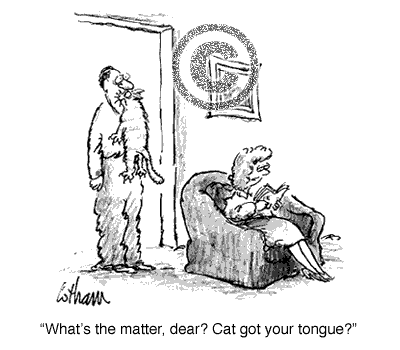 How's things going in you-all's world? I am in a weird place mentally right now. I'm fine. But, I just can't hardly make myself write a post, visit or comment. I think about you all and pray. But, it's like when I get to the PC,
cat's got my tongue
,
and I am all locked up
. I have numerous topics and thoughts I want to write about. Lots of ideas, and things I see in the Word that I want to bring to life and light. But, like a sci-fi force shield,
when I approach my PC
it just stops up, evaporates, sounds silly or too deep or pretentious and presumptuous. So, I back away from the key board.
I don't even like getting on the PC right now for
any
reason. From time to time I just get a burst of mental energy that says "I
can
do this,
at least
this once". That's is what brings me to the keyboard now. I just wanted to say I am not a fly by night sort of person. I feel like I am letting you all down. At the same time I just can't post any ole thing. I will say that inside I am in a bit of a state of flux. Maybe that is part of this mental malaise.
If I have not visited you or had an uplifting post when you needed it, please accept my profuse apologies.
I will have another post called
Scattered Thoughts
coming up.
Much love to you all! If anyone knows how to make those cool signatures some of you have, and you feel like pointing me in the right direction for that, I'd sure love it! Even if you can send me the link you use for it, that'd be great.