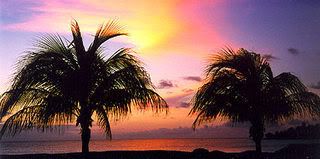 I was typing a comment early last week at a friend's site. As I typed I realized that something we all often count on and rely on is the fact that we believe and we know that
God goes before us
. It is something I contemplate prayerfully more and more as I grow older. It
gives me great comfort
. On behalf of myself, but
most especially loved ones
, and situations that life brings us to. It is so reassuring when you view those situations from the vantage point of God BEFORE you.
What really excited me
though as I typed I
"flashed"
on a scripture I had used in a header a while back. And I realized that the two concepts go together. Let me show you:
"And the LORD descended in the cloud, and stood with him there, and proclaimed the name of the LORD. And the LORD passed by

before

him, and proclaimed, The LORD, The LORD God,

merciful

and

gracious

,

longsuffering

,

and abundant in goodness and truth

, Keeping mercy for thousands, forgiving iniquity and transgression and sin, and that will by no means clear the guilty;..." Exodus 34:5-7.
See?

He goes before us and He is with us
. He dwells within us, and we abide in Him. As He goes
before
us,
He goes in His mercy
. Stop and contemplate right there.
He has gone before you
into that medical waiting room, or into that court room.
He knew
about the car accident,
He has gone before you.
He is with your son and your daughter, on the battlefield, in the school room, on the bus, in the locker room, in the guidance counselor's office.
He has gone before them
in His MERCY
preparing grace, goodness and revelatory truth to light their path.
We must teach them to look for signs that He has been there BEFORE them! We must remember to look ourselves!

We live in very uncertain times. Financially, relationally, politically, you name it. But, we have a CERTAIN God! We have a CERTAIN Word. We can take Him at His Word and then we can rest assurred as we go out into that wide, wide world, and send our loved ones out into it. We can go like David went to Goliath. He ran to the battle and He went confident of the Name of the Lord!
I used these beautiful tropical pictures to show that a God who took such care to make sure that EVEN in a fallen world we would have signs of His beauty and care for us, that SAME God has gone BEFORE us, and BEFORE our loved ones - preparing a way of goodness, mercy, longsuffering (that's how He treats us - He suffers long on our behalf!) and in truth and graciousness.
Ok, now that we know He has gone before us, you got your running shoes on? You ready to go run take out Goliath? Ready, Set, RUNNNNNNNN!