I have several different ideas rumbling around in my head.
All of them pertaining to making the ordinary every day lives we live
EXTRAORDINARY!
See, I am so
not
a domestic diva like so many of you neat ladies! Yes, I stay at home. Yes, I believe in making a good home for my family and a welcome home for visitors. But, I don't sew. I am not a decorator. I am not particularly crafty. This will never,
ever
be one of those sort of blogs because blogging by nature is an extension of our own paticular personality, and that's just not me!
But, that doesn't mean I don't love to bake, or that I don't recognize a great idea when I see it! Or that all teen angst aside I haven't had
many
wonderful experiences as a wife, mother and friend to fuel some posts to inspire you in this regard. Towards that end, here is a
wonderful, easy
recipe from my
absolute favorite cook
on television. She is such a neat person. I love her story and how much she has overcome in her life. You can click on her name below and it will take you to her website.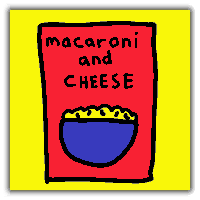 From the website of

Paula Deen:

Creamy Macaroni and Cheese
Ingredients:
2 cup uncooked elbow macaroni (an 8 ounce box isn't quite 2 cups)
2 1/2 cup (about 10-ounces) grated sharp Cheddar cheese
3 eggs, beaten
1/2 cup sour cream
1 (10 3/4-ounce) can condensed Cheddar cheese soup
4 tablespoon (1/2 stick) butter, cut into pieces
1/2 teaspoon salt
1 cup whole milk
1/2 teaspoon dry mustard
1/2 teaspoon pepper

Directions:
Boil the macaroni in a 2 quart saucepan in plenty of water until tender, about 7 minutes. Drain. In a medium saucepan, mix butter and cheese. Stir until the cheese melts. In a slow cooker, combine cheese/butter mixture and add the eggs, sour cream, soup, salt, milk, mustard and pepper and stir well. Then add drained macaroni and stir again. Set the slow cooker on low setting and cook for 3 hours, stirring occasionally.

Yield: 12 servings Prep Time: 5 minutes Cook Time: 3 hours Ease of Preparation: Easy
Recipe courtesy Paula Deen
I picked this recipe because I have noted in some of my visits that some younger families are having to make grocery money stretch
.
This means they buy less meat
.
This recipe gives lots of calcium, protein and flavor. You can get it ready and let it cook in the slow cooker (crock pot) and it won't heat up your kitchen. It will go nicely with some veggies cooked like you enjoy for a nice hot lunch or dinner.
Also, cheese is great to buy on sale and stick in the freezer,
when you plan to cook with it. Thawed cheese crumbles easy which for cooking is convenient. And since it does crumble easy it helps if you don't have a food processor!
Be on the look out for future posts on making every day lives Extraordinary!