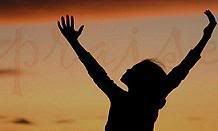 A few years ago, a line in the scriptures pertaining to the Resurrection story really
"got"
to me. I knew that though I
"got"
it on one level, there was
(and is)
a wealth of meaning there, which I would look forward to the Lord revealing in His good time.
Lately the line has been
"poking"
me more and more, like so
"remember, remember, look me up, ponder, seek The Lord, don't miss out!"
So, I have been looking at it, pondering, seeking. It
haunts me really
. I feel led to post on it. But, in such a way as to let it speak what it will.
Not so much of my thoughts on it
.
That will be
at a minimum
!
"Now upon the first day of the week, very early in the morning, they came unto the sepulchre, bringing the spices which they had prepared, and certain others with them. And they found the stone rolled away from the sepulchre. And they entered in, and found not the body of the Lord Jesus. And it came to pass, as they were much perplexed thereabout, behold, two men stood by them in shining garments: And as they were afraid, and bowed down their faces to the earth, they said unto them, Why seek ye the living among the dead? He is not here, but is risen:"
Just some data for you to consider. They came seeking, the way the word "seek" is used implies worship, or you could say a worshipful attitude, or intent behind the seeking. They brought their gifts (like we do), early in the morning on the first day of the week. However, where they went seeking, they found He wasn't there, not any longer. He was gone. He was RISEN.
I will share that since I first saw this, what really spoke to me was how often we go seeking life where there is no longer life. Or maybe never was. Since that time its my prayer that the Lord will not let me or my family waste our respective short time here, looking for life outside of the only source of life.
More lately the thought is that sometimes we hang onto things where once where God's plan for us was, but now that time/season has passed. It gives me pause. So I am considering where His life is flowing best in my life. Trusting Him to make clear if it is time to surrender any parts, so that the life He does live in me, can have free access and flourish even more. As in the pruning of a favored tree or shrub!
That's all I am going to say for now. If this left you with more questions than answers, well then GOOD! That means I did well! Happy seeking!