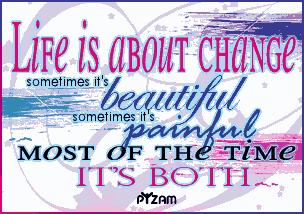 Last night at Bible Study, we got to talking about the inevitable
need in our lives for
change
.
About how the need for change sometimes shows up,
as a feeling of getting stagnant or stale.

The feeling that we don't have to think hard to do what we do anymore,
because we are no longer truly challenged.

For instance one of the ladies, who already helps run her family business,
is getting her business degree now!
She loves this.
Her son (an Honors student) is helping her with Algebra.

If God made us for anything, it certainly must be for challenge!
He is
not
a God of the comfortable.
The contented yes, comfortable, not so much!
Of course, there are lots of other indicators, besides the feeling of being stagnant,
but for a room of 40 something year old women,
this is a likely symptom.

We got to talking about being at the stage in life,
where we are almost done raising our children.
Because most of us have our kids about grown.
So there is a sense of a need to change gears.
And we are perhaps already (for some of us)
and anticipating (for others)
starting to reap some of what we have sown.
We have invested in our families, and will continue to.
But we reach a place where we will grow stagnant
if we do not catch the change in the direction the wind is blowing.
While we desire comfort, most often comfort doesn't lead to a fullfilling, disciplined life.
We have moments of comfort, surrounded by sowing, reaping, threshing...

after all the work to sow, grow and tend a crop, look at these pictures...
See all this wonderful bounty we have grown...
Now, see what is required to fully appreciate the benefits of the bounty...
Harsh, huh? Sorry, this picture just fit what I had in my mind.
Seasons changing can at times be jarring.
But, if we remember the purpose behind the shaking, the threshing,
we will not lose hope (at least that's what I'm telling myself!)
:)
We will not grow weary. We will not faint.
"While the earth remaineth, seedtime and harvest, and cold and heat, and summer and winter, and day and night shall not cease."
Genesis 8:22